Posts Tagged health economics

2017 HEOR & Market Access Salaries show big growth in key areas of Pricing, Market Access, and HEOR-focused Medical Communications.
Just-released results from the bi-annual Global Salary Survey for HEOR & Market Access by HealthEconomics.Com show that 2017 median annual base salaries, excluding bonuses and benefits, experienced big growth in certain job titles and areas of focus, while other areas held steady.

The survey is based on 456 respondents, representing 200+ organizations, 36 countries, and every major job sector employing healthcare value researchers. HealthEconomics.Com undertakes this extensive survey in order to encourage transparent, optimal, and fair compensation for this important segment of the healthcare industry. We ask hard questions, like is there gender or ethnic bias in salaries, and what countries pay the highest or lowest for similar jobs. Thank you for being part of the conversation!
Salary growth mirrors the industry focus on value-based real-world research to achieve market access through innovative pricing and reimbursement strategies, as well as the burgeoning medical device field.  Overall, Biopharma sector salaries for HEOR held steady over 2015 (but grew in Pricing & Reimbursement, Market Access, and Medical Affairs), while respondents working for CROs reported slightly lower salaries in 2017 vs 2015, on average. Salary growth was positive for HEOR-oriented employees in the MarComm agencies, indicating the importance of well-crafted communication tools containing value-based research.
In terms of salaries by position, individuals holding the title of Vice President with HEOR responsibilities saw a 12% increase in median salary, while Manager level salaries decreased 12%. Does this suggest the importance of HEOR/MA employees getting those C-Suite skills in order to get big salary growth? We think so. Job titles holding steady since 2015 include Director (all levels), Analyst, and Health Outcomes Liaison.
Positions with specific focus on RWE, Market Access, PRO, and Pricing/Reimbursement (as opposed to the more general HEOR focus or title) increased substantially.
The 2017 Survey showed an absolute increase in the proportion of survey respondents claiming a focus in Pricing/Reimbursement (P&R) by 6%, while the percent of respondents in each of the following – RWE, HEOR-focused Medical Communications, and Medical Affairs – doubled.  Market Access respondents median salaries were 38% higher than 2015, and P&R respondents were 15% higher!
Click here to learn more, download the Executive Summary, and purchase your copy of the 2017 Global Salary Survey for HEOR & Market Access. Buy the 2015 report at a discount, too.

Maybe you're an individual employee, and you want to make sure your salary is optimized. Well, we have something for you too.  New this year is a Customized HE Salary Calculator, allowing you to compare YOUR salary, bonus, and benefits to the rest of the respondents! Get your own personalized analysis here.  The Final Report includes dozens of extensive cross-tabulated tables showing median salary by key variables including country, job sector, degree, job title, experience level, and more.
This 2017 Global Salary Survey for HEOR & Market Access is the only worldwide compensation survey specifically for the HEOR and Market Access field, providing strategic compensation planning data that allows you to:
Benchmark compensation (as an individual, or as a company);
Negotiate salary, bonuses, and benfits with data. Stop overpaying or undervaluing!
Improve competitiveness in the marketplace;
Recruit and retain top talent or ensure you get that next job, paid fairly;
Address gender and ethnic diversity;
Understand views toward job satisfaction; and,
Achieve organization goals as a desirable place to work.
The 2017 Global Salary Survey for HEOR & Market Access includes:
88-page report on the current salary and compensation trends across sectors, job position, years of experience and role.
60 tables/charts
Insights and interpretations stratified by job sector, geography, years of experience, and more.
Data on key skillsets to progress the career, negotiating tactics and understanding of the existing work culture in the industry.
Represents All Major Employment Sectors:
Biopharmaceuticals
Medical device companies
Consulting
Contract research organizations
Medical communications agencies
Health technology assessment organizations
Academia
Contains Comprehensive Insights on:
Salary
Benefits
Bonuses
Raises
Job satisfaction
Key skill areas
Gender and ethnic discrimination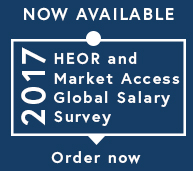 The 2017 Global Salary Survey for HEOR & Market Access stands alone as the most comprehensive guide to compensation and benefits in our industry. Don't miss out on these insights and the new Customized HE Salary Calculator!
While you're at it, view, post, or search a job on the HE Jobs Portal.
Thank you for being part of the conversation to ensure transparent and optimal compensation for HEOR, Market Access, and Medical Affairs! Your team at HealthEconomics.Com is dedicated to providing insights on this and all issues related to our profession.  Leave your comments below, or contact us for more information
Healthcare is all about making decisions.
Who to treat? When to treat? How to treat? How long to treat? How much to spend to treat? The list goes on and on.
Fortunately, great strides have been made in healthcare decision analysis, but not without controversy.
On the plus side, decision analysis can provide objectivity and potentially improve the quality of the final choice.  On the downside, decision analysis is fraught with challenges, including methodological, process, outcomes, perspective, data sources, and how to present the data insights, to name a few.  
In this blog, we'll discuss a few of the challenges of systematic decision approaches in the context of a topic that's been in the news of late, pharmaceutical Value Assessment Frameworks. Specifically, we will focus on a relative newcomer on the block: the Institute for Clinical and Economic Review's (ICER) Value Assessment Framework and explore some areas of needed improvement. While doing so, we will also compare two ways of presenting these insights: Long-form content and a visual format called PepperSlice.
What's the beef with ICER's Value Assessment Framework?
For more than a year, ICER has used its value assessment framework to guide its evidence reports on new drugs and other interventions. Pharma industry and patient advocacy networks have reacted strongly (and by strongly, we mean mostly negatively) to the ICER framework. One of the most common responses to ICER is that their (and other) frameworks squash pharmaceutical innovation and prevent some patients from receiving needed care.
In addition, major industry groups have challenged the readiness of the ICER framework, questioning its appropriateness in several areas. To their credit, ICER has requested stakeholder comments in preparation for a 2017 revision of the framework.
The NPC (National Pharmaceutical Council), PhRMA (biopharma trade group), and AMCP (the Academy of Managed Care Pharmacy) have significant concerns about ICER's methodology. In particular, they take issue with the following areas:
Real-world evidence.
NPC says "ICER [should] have a clear process for managing the evolution of evidence, especially in the case of emerging therapies…. [T]hese reviews will continue to be relied upon by other stakeholders even after additional data (e.g., real-world evidence) emerge."
And AMCP suggests real-world evidence and patient-reported outcomes should be "re-examined to further enhance the utility and relevance of the value assessment framework."
Budget impact.
ICER should not confuse budget impact with value. "Budget impact assessments — which are measures of resource use, not of value — should remain completely separate from value assessments," says NPC.
And this from PhRMA: ICER should suspend "the use of budget impact estimates until more sound methods are developed and validated."
Economic model transparency.
The information provided is "not sufficient to enable reviewers to reproduce the results and provide meaningful, real-time input. Full transparency — down to the equation level — is needed to enable reproducible results and support fully informed stakeholder collaboration." NPC asks that ICER release the model to all stakeholders.
QALY.
PhRMA asks for "Adjustment of the cost-effectiveness component of the framework to reflect the inherent and widely recognized limitations in traditional quality adjusted life years-based cost-effectiveness analysis (CEA), including capturing a wider range of benefits in CEA and presenting a range of care value estimates based on sound assumptions and varied approaches."
Other responses to the ICER Value Assessment Framework include:
NPC: To guide future development, NPC published a set of Guiding Practices for Patient-Centered Value Assessment. Dan Leonard recently recapped NPC's viewpoint on how frameworks should be developed.
PhRMA: Four specific recommendations are offered, intended to move ICER in a more "methodologically rigorous, patient-centered direction". They request significantly more transparency into how it works with stakeholders. And they offer specific advice on How to Get Value Assessment Frameworks Right.
AMCP: The managed care and specialty pharmacists' group expresses concern that the current framework "lacks a process for incorporating real-world evidence (RWE) and patient reported outcomes (PROs) into the catalog of evidence that informs the underlying economic models. [Doing so would] better represent the patient experience."
ICER Value Framework Version 2.0.
In October, ICER convened a broad group of stakeholders to inform its planned update. Invitees included people from pharma, academia, payers, patient advocates, and trade groups. A revised framework will be posted for additional comments next month; ICER's 2.0 version will likely become final in early 2017.
What's next for value frameworks?
ICER is only one of several frameworks gaining traction in healthcare. Stakeholders are weighing in. To help establish best practices going forward, the International Society for Pharmacoeconomics and Outcomes Research (ISPOR) has launched an initiative on US value assessment frameworks; more than 250 people attended the kickoff stakeholder conference. A task force is preparing a policy white paper on the appropriate definition and use of value assessment frameworks, expected Q1 2017. ISPOR is the sole funder of the effort.
Moving From Data Output to Data Insights.
Much of the data derived from decision analysis is challenging to present to decision-makers.  As an industry, we all need to get better at communicating complex evidence – simply. One tool, called PepperSlice, may help.  PepperSlice is designed to deliver insights and Evidence Graphs by structuring analytics and evidence in a simple way.
Capturing insights with PepperSlice.
Let's look at how we can visually present the concerns with ICER's Value Assessment Framework using PepperSlice insights and data visualization.
The images below depict the issues around RWE and the ICER framework, in easy-to-consume graphics that are transparent, show the relationship between the data inputs, and the data source behind the images.
The first "board" (Image 1 ) explains the issue, graphically on this topic: "ICER's value assessment framework is not ready for widespread adoption by stakeholders".
Image 1.
Below each board are "slices" (Image 2), designed as cards, and each of these slices offers an insight. In the PepperSlice platform, these slices can be pinned to a single board or multiple boards, can be saved, and are searchable and reusable.
Image 2.
A database provides the underlying structure to the insight slices (Image 3 below), and provides the relationship (reduces, lacks, improves, etc.) between the two inputs, the result, the analyst name (i.e., the "slicer"), and the evidence collection method.
Image 3.
Through this method of PepperSlicing, one can present insights with a click of a button, build and manage the inventory of evidence-based insights, use them for one or multiple analyses, and see how an insight was derived (What are the supporting data? How was the evidence analyzed? Who did the work?).   In just a few images, one can see inputs, outputs, and relationships.
Summary
In this blog, we've given you an overview of the ICER Value Assessment Framework and the major concerns of the decision framework according to key stakeholders.  We've also showed you, by example, how insights can be captured about this issue – or any decision/choice – using a new methodology called PepperSlice.
What do you think are the major concerns with Value Assessment Frameworks in general and the ICER framework, in particular?  Let us know what you think about the two presentations of the data: long-form vs short-form visual presentation using PepperSlice?
We'd like to hear from you.  Just leave us a comment below, and sign up to be informed of all blog posts from tHEORetically Speaking.
If you'd like to be a guest blogger, give us a shout at by emailing patti@healtheconomics.com.
By
Tracy Allison Altman, PhD – Founder of Ugly Research   
Patti Peeples, PhD – CEO of HealthEconomics.Com